Production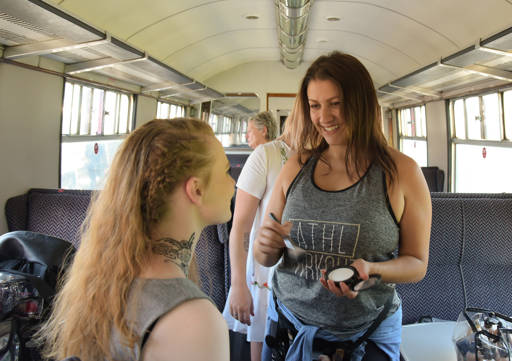 Day arrives and whilst the crew set up we have make up in one of the carriages working through the passengers and getting everyone ready.
Sound was always going to be a tough call. We had Aris mixing in the back of the main carriage (where the bar was) and two boom operators. He set up mics in a number of places, some to capture the track sound without dialog in a different carriage. Jane and Bill have both lav and a boom each. Overall we generally had around 9 tracks of audio going. Audio on a train was never going to be easy, so we covered as much as we could.
Freddie, Maria and Noor helped rig the lights. I'd worked out that a LED strip panel hidden on the luggage rack can add ambient bounce light from the ceiling which lifted the centre of the carriage. Then i'd previously tested the structure of the racks so i knew i could super-clamp two Area 48 remote phosphor panels to key/fill Jane and Bill. Making sure no one was standing in front of them when they were needed was going to be a challenge!
Power was always going to be an issue so i had bought and imported a bunch of V Lock batteries from China, they were all tested and ready to go so i knew i could cover 8 to 10 hours of constant power on the lights and everything.
Adrian was acting as DIT in the make up carriage. I'd timed the offload and capture cards so that they were always in rotation. Using my MBP and Hedge we were offloading and verifying each Red mag to two SSDs as redundant backup.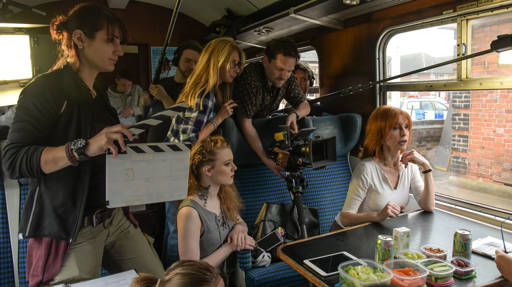 Ersi was ADing and was keeping her eye on script and continuity and managing passengers. Clare was pulling focus for me and we ran a paralinx wireless video feed. We had an additional receiver going off to Sound in the next carriage. Aris was running a closed communications loop with his operators and keeping them out of shot and on their toes (in their socks of course).
I'd decided that i was going to try to not hand hold - 8 hours of that would take it's toll. Instead i'd set up a monopod and have a squishy mount on top. This allowed me to be fluid but not shaky and worked well. I could get the base of the monopod in many tight areas. I had a light fluid head on as well for levelling. I'd tried ball heads and all sorts but nothing really worked as well as i'd have liked.
And so, a long, tiring but satisfying day of shooting. We are indebted to the staff at Epping for staying on a bit longer than we arranged and we got more time out of it. The day was full of the usual troubleshooting and problem solving but nothing major and we stuck to our lists and managed to get all we needed. At the end of the day we also managed to shoot the external platform scenes with Jane inside the building and still had light.
We also scheduled a few other shoots. We had an evening car park scene and we also shot the car with green screen behind to get elements we needed for a very late night scene, we didn't want to put the actors through a 2am call in the middle of nowhere and to get back to London! So we shot at dusk knowing that i'd then get the car and vfx plates done later with a small crew.
So on this final night we were deep in the woods and it was pretty terrifying actually. Pitch black and i have my Voyager DS lights that i could light the trees with and we had the car headlights. We got all the plates sorted before any creatures came out from the forest to chase us.